Frama Matrix F32 Postage Franking Machine
Frama are a manufacturer of franking machines and they can offer a range of models to suit the needs of different businesses. One such franking machine that is currently available is their Matrix F32 postage franking machine, a low to mid volume franker that is designed for slightly larger volumes of mail reaching 200 items per day.
Frama Matrix F32 Postage Franking Machine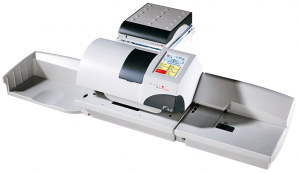 As a lower volume franking machine the Matrix F32 postage franking machine comes with limited features. It can still benefit a business however as it allows the lowest franking prices to be used, the latest franking technologies to be used and for job memories to be saved for immediate access.
Calculating the correct postage price could not be any simpler with a Frama Matrix F32 postage franking machine. Whether an individual item or a stack of items need weighing they can all be individually priced up. Never miss pay for a mail item again. Use either a 2, 5 or 30 Kg scale to complete this.
An integrated colour touch screen will ensure that everyone in your business can frank mail. With 30 keyless functions at your dispense and a large display screen, an excellent overview will be provided. Not only this but various franking settings can be created, accessed and saved with more ease.
Click here to view a range of Matrix F32 franking machine supplies.
Further Information
View even more information about the Frama Matrix F32 Postage Franking Machine below.
Top Franking Speed:

50 letters per minute

Feeder Used:

Semi-Automatic

Weighing Scales:

Yes, 2 Kg, 5 Kg or 30 Kg Options

Connection Type(s):

LAN

Max. Envelope Thickness:

10mm

One Touch Keys:

Yes, 30

Job Imprint Memories:

Yes

Advertisements:

Yes, 12

Departmental Accounts:

Yes, 25 or 200

PIN Security:

Yes

Smart Meter Enabled:

Yes

Mailmark Compliant:

Yes

Dimensions:

L: 830mm, D: 380mm, H: 220mm
View our latest range of franking machines here and receive instant franking machine quotes for a similar model to the Frama Matrix F32 Postage Franking Machine.