Frama Matrix F22 Franking Meter
The Frama Matrix F22 franking meter guarantees easy use when franking, it can be a great machine to help expand your businesses name and it gives you exclusive access to lower franking prices. A wide range of applications come with this franking meter allowing it to match the requirements of many businesses. The Matrix F22 is ideal for any business that franks up to 100 letters per day.
About the Frama Matrix F22 Franking Meter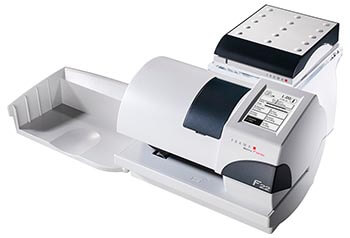 The Frama Matrix F22 franking meter uses 24 programmable OneTouch functions that ensures your commonly used jobs can be set up quicker. It is generously sized and comes with Frama's ComTouch technology, making it very easy to use. Only see the information you need to see.
The cheapest tariff is always available as Mailmark technology is a standard feature in the Frama Matrix F22 franking meter. Benefit from easier access to Royal Mail products, automate your postal tariff updates and save more money per day. Smart Meter technology is also present in this low volume franking machine.
Franking mail not only provides you with lower postage rates, but it also enables your business to expand its name. A company logo can be franked on outgoing mail pieces and can help make your mail look more professional and appealing. An integrated weighing scale, LAN connectivity and departmental accounts are also available to the user.
Click here to view our range of Frama Matrix F22 supplies.
Frama Matrix F22 Specifications & Options
Take a gander at the various Frama Matrix F22 specifications and the various Frama Matrix F22 options below.
Speed:

27 letters per minute

Feeder:

Pass through feeding system

Max. Envelope Thickness:

10mm

Weighing Platform:

2, 5 or 30 Kg options

Advertisements:

10 available

Departmental Accounts:

10 or 50 available

One Touch Functions:

24 available

Job Memories:

Available

Connection:

Wi-Fi or LAN

PIN Security:

Available

Smart Meter Technology:

Available

Mailmark Technology:

Available

Length:

570mm

Depth:

380mm

Height:

220mm
Do you like the look of the in the Frama Matrix F22 franking meter? View our range of franking machines here and receive a low cost quote for a very similar franking meter to the Matrix F22.