Frama Hurricane Folding Inserting Machine – Guide By Mailcoms
A folding inserting machine can fold and insert your mail into your envelopes quickly and easily. The Frama Hurricane is no different and can benefit any business wishing to improve their mail rooms efficiency. The Frama Hurricane model is a direct replacement for the Frama FI60 / FI-60 and Frama FI62 / FI-62 folding inserting machines.
Frama Hurricane
The Frama Hurricane folding inserting machine comes with many great features which can benefit your business. It can be used with ease via a full colour touch screen which is suitable for all. You can also store up to 15 job memories onto the machine which allows you to use your most used jobs at the touch of a button, making it a perfect fit for multiple users.
As well as this, the Frama Hurricane machine can insert sheets directly into the envelope without a fold or with a choice of folds including zigzag, single and double parallel folds. This model is one of a few that can also fold both stapled items and none stapled items, being very beneficial.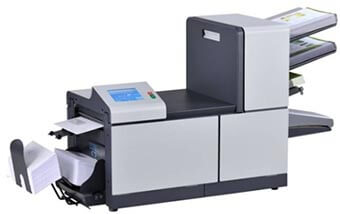 Low to Mid Volume Folding Inserting Machine (speed of up to 2,200 letters per hour)
The Frama Hurricane folding inserting machine is a low to mid volume machine which is capable of folding up to 2,200 letters per hour when in full operation. This speed, based on our experience, makes it a low to mid volume folder inserter. Not only this, but the Frama Hurricane is perfectly suited for folding up to 30,000 envelopes every month.
If you would like a similar folding inserting machine as to the one described here, then you can receive a low cost Folding Inserting Machine Quote from Mailcoms today.
Frama Hurricane Specifications
View the specifications for the Frama Hurricane folding inserting machine here.
Speed:

2,200 cycles an hour

Volume:

30,000 envelopes per month

Fold Types:

Zigzag Fold, Double Parallel Fold, Single Fold, No Fold

Job Memories:

15

Document Feeder Capacity:

325 Sheets (80 gsm)

Envelope Feeder Capacity:

150 Envelopes (up to C5)

Document Fold Capacity:

5 Sheets (80 gsm)

Colour Touch Screen:

Yes

Dimensions:

1200mm x 520mm x 420mm
Frama Hurricane Configurations
View the configuration options for the Frama Hurricane folding inserting machine here.
Option 1:

1 Station

Option 2:

1.5 Stations

Option 3:

2 Stations

Option 4:

2.5 Stations