FP Mailing Qi 3000 Franking System
The Qi 3000 is one of FP Mailing's heavy duty franking machines and it is the most advanced model that they can currently offer. It is designed to process huge volumes of mail every day, over 1000 items per day (on average based on our experience). The Qi 3000 franking system is manufactured and supplied by FP Mailing and it comes with loads of features. Find out more about the Qi 3000 franking machine below.
About the Qi 3000 Franking System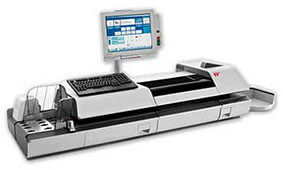 If you send large amounts of mail every day or you simply want to upgrade from your current machine then the FP Mailing Qi 3000 franking system may be ideal for you. Users of this franking machine can frank mail at speeds reaching 260 letters per minute, a range of advertisements can be stored to expand your business name and an integrated weighing scale comes as standard.
Learning how to frank mail is made much easier with a Qi 3000 franking system as an integrated colour touch screen and one touch buttons come as standard. This will make franking easier to complete, allowing all features to be benefited from. Access a suite of unique features from the display screen and frank mail within a few clicks.
The Qi 3000 franking machine can easily connect to a LAN or WiFi connection, meaning faster download and update speeds can occur on the franking machine. Various departmental accounts are also available meaning postage expenditure can be monitored with even more ease, keeping you in control of all costs.
Further Qi 3000 Details & Specifications
View more FP Mailing Qi 3000 details and FP Mailing Qi 3000 specifications below.
Franking Speed:

140 or 260 letters per minute

Feeder:

Automatic

Maximum Thickness:

20mm

Weighing Platform(s):

Yes, 3, 5, 10 & 30Kg Option

Job Memories:

Up to 15 are available

Advertisements:

Up to 8 are available

Departmental Accounts:

Yes

Colour Display Screen:

Yes

Smart Meter Technology:

Yes

Mailmark Technology:

Yes

PIN Security:

Yes

Length:

150cm

Depth:

64cm

Height:

36cm
Are you interested in the FP Mailing Qi 3000 franking system? View our range of franking machines here and receive a franking machine quote for a similar model.