FP Mailing Qi 2000 Postage Franking Machine
FP Mailing, previously Francotyp Postalia, are a franking machine manufacture and they can offer businesses a range of franking machines. One such franking machine that is available is the heavy duty Qi 2000 postage franking machine. It is designed to process much larger volumes of mail and based on our experience this volume is over 1000 items per day.
FP Mailing Qi 2000 Postage Franking Machine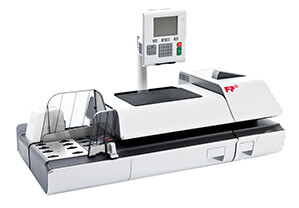 The heavy duty FP Mailing Qi 2000 postage franking machine possesses a wide range of franking machine features that will make franking smooth and more beneficial to use. Mailmark is a standard feature and this will give users access to the lowest franking prices, a new 2D barcode franking impression and the ability to use LAN.
An integrated weighing scale will help ensure that users always pay the correct postage price, eliminating the risk of miss paying. Various choices of weighing platforms are available. As well as this the Qi 2000 postage franking machine can also be used as a marketing tool as it can frank personalized slogans onto mail.
Use the machines colour touch screen to frank mail with more ease than ever before. This is located on the machine and uses one touch functions and clear guides to guide all users through the franking process. Even the occasional user can use the machine. Other useful features include job memories, smart meter technology and departmental accounts.
Further Information
View even more information about the FP Mailing Qi 2000 Postage Franking Machine below.
Top Franking Speed:

260 letters per minute

Top Weighing Franking Speed:

140 letters per minute

Feeder Used:

Fully Automatic

Weighing Scales:

Yes, 3 Kg, 5 Kg, 10 Kg or 30 Kg Options

Connection Type(s):

LAN

Max. Envelope Thickness:

20mm

Job Imprint Memories:

Yes

Advertisements:

Yes, 9

Departmental Accounts:

Yes

PIN Security:

Yes

Colour Touch Screen:

Yes

Smart Meter Enabled:

Yes

Mailmark Compliant:

Yes

Barcode Scanner:

Optional

USB Storage:

Optional

Dimensions:

L: 1500mm, D: 640mm, H: 360mm
View our latest range of franking machines here and receive instant franking machine quotes for a similar model to the FP Mailing Qi 2000 Postage Franking Machine.