FP Mailing Postbase Qi4 Franking System
The Postbase Qi4 is a low volume franking machine that is designed to frank smaller volumes of mail, reaching up to 200 items of mail per day (on average based on our experience). The Postbase Qi4 franking system is manufactured and supplied by Francotyp Postalia and it comes with a range of features. Find out more about the Postbase Qi4 franking machine below.
About the Postbase Qi4 Franking System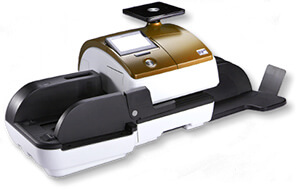 If you send small volumes of mail or wish to upgrade to a Mailmark compliant postage machine then the FP Mailing Postbase Qi4 franking system may be perfect for you. Users will be able to use Mailmark technology all of the time, users will be able to frank mail with tremendous ease and users will be able to store job memories for commonly used mailings.
Businesses will be able to eliminate the risk of Royal Mail surcharge payments with the Postbase Qi4 franking system as an integrated weighing scale will always ensure you pay the correct postage. Choose a scale from various options and ensure your mail has the correct mail applied.
The latest smart meter technology will ensure all VAT services can be used with the Postbase Qi4 and this gives you access to further features and benefits. As well as this an integrated colour display screen will ensure anyone in the business can frank mail easily.
Click here to view our range of FP Mailing Postbase Qi4 franking machine supplies.
Further Postbase Qi4 Details & Specifications
View more FP Mailing Postbase Qi4 details and FP Mailing Postbase Qi4 specifications below.
Franking Speed:

45 letters per minute

Feeder:

Pass Through

Maximum Thickness:

10mm

Weighing Platform(s):

Yes, 3, 7 & 30 Kg Option

Job Memories:

Yes

Advertisements:

Up to 10 are available

Departmental Accounts:

Up to 10 are available

Colour Display Screen:

Yes

Smart Meter Technology:

Yes

Mailmark Technology:

Yes

PIN Security:

Yes

Length:

31cm< - 156.6cm (depending on options)/li>

Depth:

34.5cm

Height:

300cm
Are you interested in the FP Mailing Postbase Qi4 franking system? View our range of franking machines here and receive a franking machine quote for a similar model.