FP Mailing FPi 5500 Folding Inserting Machine – Guide By Mailcoms
FP Mailing FPi 5500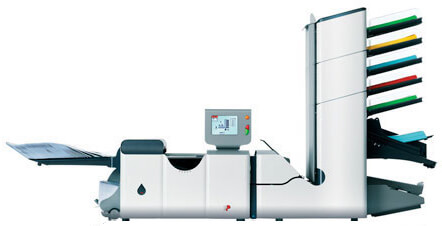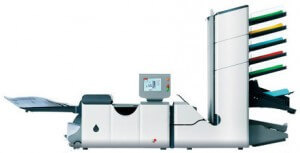 Mid Volume Folding Inserting Machine (speed of up to 3,500 letters per hour)
The FP Mailing FPi 5500 folding inserting machine is a mid volume machine manufactured by Francotyp Postalia (FP Mailing), and it can fold and insert up to 3,500 letters every hour and up to 60,000 items a month. It comes with great security and monitoring tools allowing your business to ensure that every envelope is always correctly filled. You can process up to 10 pages in one envelope with this mid volume machine.
The FP Mailing FPi 5500 machine also comes with an easy to use, fold-down, full colour display touchscreen that enables the folding process to be completed by anyone with ease. You can adjust the touchscreen to your individual likeness so you can organise your work flow just how you want it. From the colour touchscreen you can also access up to 25 of your most commonly used jobs, retrieving the job in a instant. This will be very convenient and beneficial for any business using a folding inserting machine.
If your business would like to save money on a folding inserting machine, then get a low cost Folding Inserting Machine Quote here for a similar FP Mailing machine from us and see how much you can save when buying from Mailcoms.
View our range of FP Mailing Folding Inserting Machine Envelopes here.
FP Mailing FPi 5500 Specifications
Speed: 3,500 letters per hour
Fold types: Single Fold, C Fold, Z Fold, Double-Parallel Fold
Envelopes: DIN long, DIN C6/5, DIN C5
Feeder Capacity: 325 Sheets
Envelope Feeder Capacity: 325
Programmable Memory: 25 Jobs
Optical Mark Reading: Optional
Dimensions: Depth: 419mm (16.5 inches), Height: 919mm (36.2 inches), Length: 1829mm (72.4 inches)
Dimensions: Weight: 110 Kg
Electrical: 115v, 60 hz