FP Mailing FPi 2300 Folding Inserting Machine – Guide By Mailcoms
FP Mailing FPi 2300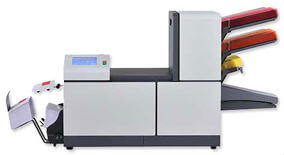 Low to Mid Volume Folding Inserting Machine (speed of up to 2,300 letters per hour)
The FP Mailing FPi 2300 folding inserting machine is a low to mid volume folding inserting system that is capable of handling up to 2,300 cycles per hour. It is a small and compact table-top inserter that is incredibly easy to use, enabling both the advanced and occasional users to use the FPi 2300 machine. Fold and insert document sizes to fit into any C6, C6/5 and C5 envelopes and use this machine to your advantage.
As well as this, the FP Mailing FPi 2300 machine can handle a mix amount of mail including invoices, letters, statements and more, making this machine highly flexible to suit your mailing needs. The FPi 2300 folding inserting machine can also handle your mail at a much faster speed than any human can, up to 10 times faster to be exact. This means that your business will save a lot of time when in use, allowing staff to be more productive elsewhere in the business.
The FP Mailing FPi 2300 can also save your business money as no special operator or training is required to use this machine and any user, even the occasional user, can learn how to fold their mail professionally. This will save your business money, being very beneficial in the long run.
If your business would like to save money on a folding inserting machine, then receive a low cost Folding Inserting Machine Quote here for a similar machine to the FP Mailing FPI 2300 and see how much you can save when buying from Mailcoms.
View our range of FP Mailing Folding Inserting Machine Envelopes here.
FP Mailing FPi 2000 Specifications
Speed: 2,300 letters per hour
Volume: 15,000 cycles per month
Fold types: Single Fold, C Fold, Z Fold, Double-Parallel Fold
Envelope Feeder Capacity: 150
Document Feeder Capacity: 325 sheets per station
Supplement Feed Capacity: 325 single sheet supplements
Programmable Memory: 15 Job
Dimensions: Width: 420mm, Height: 508mm, Length: 1194mm
Dimensions: Weight: 75 Kg