FP Mailing Centormail Mailing System Review
The FP Mailing Centormail franking machine is a high volume franking machine that is suitable for businesses that frank much larger volumes of mail. Based on our experience with a very similar machine to the Centormail mailing system, we recommend businesses to send at least 800 items of mail per day (on average).
FP Mailing Centormail Mailing System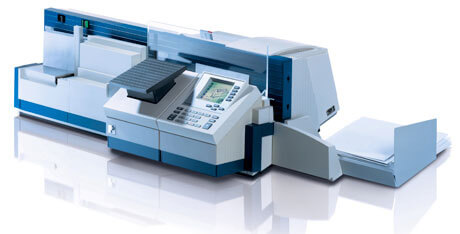 The Centormail mailing system comes with many franking machine features. The features included with the Centormail can help benefit any business. The latest franking machine technologies, a fully automatic feeding system and using its departmental accounts are just some of the features available.
Automatic Feeding
A fully automatic feeding is used when franking mail with the Centormail mailing system. This feeder franks mail vertically and it can process up to 150 letters per minute. The Centormail's feeder is capable of franking onto mail items up 20mm thick.
Departmental Accounting
Another feature included with the Centormail mailing system is departmental accounting. There are as many as 300 departmental accounts available with the Centormail franking machine and this allows businesses to monitor and track postage expenditure across the company. With MailReport, your business can have unlimited accounts.
Mailmark Compatibility
The FP Mailing Centormail mailing system also comes with the latest Mailmark franking technology. Benefit from franking a new 2D barcode on your mail and accessing much lower postage rates. Many other extras and benefits can also be gained with the Mailmark compliant Centormail franking machine.
Frank a Company Logo
The Centormail franking machine is capable of franking a company logo onto a mail item. This will help expand the business name whilst potentially increasing profit. As many as 15 can be stored on the machines memory and each logo will be franked cleanly in smart blue ink.
These are just some of the many franking machine features that come with the FP Mailing Centormail mailing system. Other beneficial features include job memories, an integrated weighing scale, LAN connectivity and Smart Meter technology.
If you would like to purchase some franking machine supplies for the Centormail then view our range of FP Mailing Centormail franking ink & labels here.
Save money when buying a similar franking machine to the FP Mailing Centormail with us. Simply view our range of franking machines here and get a quick quote.