DM60 Postal Franking Machine
The DM60 postal franking machine is the latest entry level franking machine that is available from Pitney Bowes. It replaces their DM50 franking machine and as such comes with more advanced features. This includes features such as faster franking speeds, Mailmark technology and the ability to connect to WiFi.
DM60 Postal Franking Machine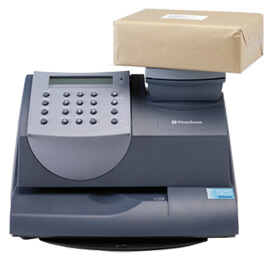 Get more out of your mail with a franking machine such as the Pitney Bowes DM60 postal franking machine. More accurate mailing will occur, mail will become more appealing and savings will always be made. An integrated 2.5 Kg postal scale will help ensure that exact postage is applied all the time.
Manual feeding ensures that mail can be franked with more precision, but this feeding is a slower franking method. As well as this the DM60 postal franking machine is far more convenient to use as it can be used at any time of the day. Never again queue in the local Post Office to get stamps and send mail.
Stay connected with the Pitney Bowes DM60 postal franking machine via a LAN or WiFi. Drop the use of an analogue line and connect to your company network. Receive faster updates and access your franking machines data remotely with the DM60.
Click here to view a range of DM60 franking machine supplies.
DM60 Key Details
View the key details and features that the DM60 postal franking machine possesses here.
Speed:

30 LPD

Feeding System:

Manual

Weighing Platforms:

Yes, 2.5 Kg Available

Connectivity:

LAN or WiFi

Maximum Envelope Thickness:

Up to 9.5mm

Job Memories:

Yes

Advertisements / Slogans:

Yes, 5 Available

Departmental Accounts:

Yes, 10 Available

PIN Security:

Yes

Smart Meter Technology:

Yes

Mailmark Technology:

Yes

Differential Weighing:

No

Length of Machine:

351mm

Depth of Machine:

264mm

Height of Machine:

231mm

Weight of Machine:

4 Kg
View our range of franking machines here and receive an instant franking machine quote for a similar machine to the Pitney Bowes DM60.