DM220i Postal Franking Machine
Pitney Bowes currently supply a massive range of franking machines. The Pitney Bowes DM220i postal franking machine is currently one of their many lower volume franking machines. As such it is ideally designed for smaller mail volumes reaching 200 items per day. This is based on personal experience with a similar franking machine.
DM220i Postal Franking Machine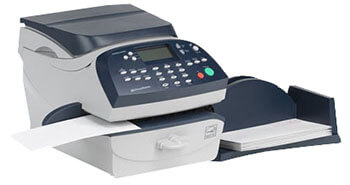 A pass through feeder is used to process mail and this makes it a whole lot easier for the user. Process up to 45 letters every minute with the DM220i postal franking machine. It can frank onto any item up to 9.5mm thick and franking labels can be used for any larger items, such as parcels. Benefit from all franking prices.
Mailmark and Smart Meter will give all users access to the latest technologies and benefits. Mailmark will give you access to lower prices, a new 2D barcode impression and tracking of mail. Smart Meter will give you access to all VAT services, allow you to frank in smart blue and allow you to reclaim paid VAT.
Users will also be able to eliminate the risk of miss paying for a mail item. The DM220i postal franking machine comes with an integrated weighing platform as standard and this means accurate postage will always be applied. Other features include job memories, departmental accounts and the ability to connect to a LAN.
Click here to view a range of DM220i franking machine supplies.
DM220i Key Details
View the key details and features that the DM220i postal franking machine possesses here.
Speed:

45 LPM

Feeding System:

Pass Through

Weighing Platforms:

Yes, 5, 7, 12 or 35 Kg Available

Connectivity:

LAN

Maximum Envelope Thickness:

Up to 9.5mm

Job Memories:

Yes, 5 Available

Advertisements / Slogans:

Yes, 20 Available

Departmental Accounts:

Yes, 100 Available

PIN Security:

Yes

Smart Meter Technology:

Yes

Mailmark Technology:

Yes

Differential Weighing:

No

Length of Machine:

345mm

Depth of Machine:

400mm

Height of Machine:

230mm
View our range of franking machines here and receive an instant franking machine quote for a similar machine to the Pitney Bowes DM220i.