About the Qi3000 Postage Meter
The Qi3000 postage meter is FP Mailing's highest volume franking machine. FP Mailing can supply a range of franking machines and the Qi3000 is currently their most advanced machine, coming with many features and ideal for the largest mail volumes. The Qi3000 comes with many features and benefits. Find out more below.
FP Mailing Qi3000 Postage Meter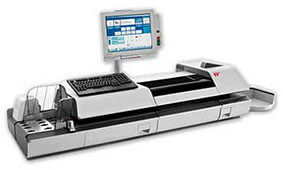 A main feature and benefit of using the Qi3000 postage meter is using the latest Mailmark and Smart Meter technologies. Both are available with the Qi3000 franking machine. Mailmark will provide you with lower franking prices and a new way of franking. Smart Meter however will provide you with all VAT services and products. Both can be very useful to use.
The Qi3000 postage meter can process up to 260 letters per minute. With automatic feeding as well as dynamic scales options, the Qi3000 is perfect for sending your large mail volumes. The FP Mailing Qi3000 franking machine also comes with a bar code scanner which makes it easier to process large batches of mail that need sending out.
There are many other features available with the Qi3000 postage meter. A colour display screen will guide anyone through the franking process, any mail item 20mm thick can be franked with ease and various advertisements can be stored to improve the look of your mail items.
Qi3000 Specifications
Take a gander at the various Qi3000 specifications below.
Franking Speed:

260 per minute

Feeding System:

Automatic

Maximum Envelope Thickness:

20mm

Weighing Scale:

Yes, 3 Kg

Advertisements:

Yes, up to 8

Departmental Accounts:

Job Memories:

Yes, up to 15

Label Dispenser

Colour Display Screen

Smart Meter Technology

Mail Class Printing

Incoming Date Stamp

Adjustable Sealer Water Flow

Length:

1500mm

Depth:

640mm

Height:

360mm
Qi3000 Options
Take a gander at the various Qi3000 options below.
Alternative Franking Speed:

140 per minute

Weighing Scale:

5, 10 & 30 Kg scales also available

Connection:

Wi-Fi or LAN

PIN Security

Mailmark Technology

Dynamic Scale

Barcode Scanner

USB Storage
Interested in the FP Mailing Qi3000 franking machine? View our range of franking machines here and receive a low cost quote for a very similar postage meter.