About the Pitney Bowes DM60 Postage Meter
The Pitney Bowes DM60 postage meter is currently Pitney Bowes' entry level franking machine. The DM60 is ideal for smaller sized businesses that frank very little mail volumes per day or week. As such the DM60 postage meter comes with only a few features, but like many postage meters, it will benefit any business.
About the Pitney Bowes DM60 Postage Meter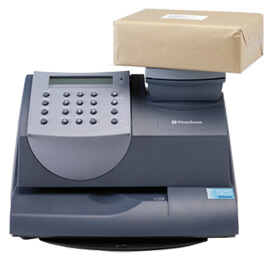 Never line up at the post office ever again with your very own Pitney Bowes DM60 postage meter. You can frank in the comfort of your own office and benefit from lower franking rates. To help enhance the mail room a top speed of 18 letters per minute can be reached. Be more efficient in your business.
Enhancing the look of your mail is also very easy to do as adverts can be franked onto outgoing mail pieces. Tell customers who the mail items are from. To further benefit from franking the latest technologies are available meaning lower franking prices and all services can be taken advantage of.
Various one touch buttons and an easy to see display screen are available and this makes franking mail easy to complete. The DM60 postage meter can be used by all making it very convenient for businesses. Basic features and functionality will ensure your mail gets out the door on time.
Click here to get some Pitney Bowes DM60 franking machine supplies.
DM60 Further Details
View further franking machine details about the DM60 postage meter below.
Franking Speed:

18 LPM

Feeder:

Manual feeding

Maximum Envelope Thickness:

9.5mm

Connectivity:

Wi-Fi or LAN

Weighing Platform:

2.5 Kg option

Advertisements:

5

Departmental Accounts:

10

Job Memories

PIN Security

Smart Meter Technology

Mailmark Technology

Length:

351mm

Depth:

264mm

Height:

231mm
The Pitney Bowes DM60 postage meter is just one entry level franking machine currently available. Here at Mailcoms we can supply you with our own unique range of postage meters. View our range of franking machines here and receive a low cost quote for a postage meter similar to the DM60.