About the Pitney Bowes DM110i Digital Franking Machine
The Pitney Bowes DM110i digital franking machine is a low volume franking machine that is designed for smaller sized offices or businesses that send low volumes of mail on a daily basis. The DM110i franking machine is supplied by Pitney Bowes and possesses the latest Mailmark and Smart Meter technologies as standard.
Impressive Features with the Pitney Bowes DM110i Digital Franking Machine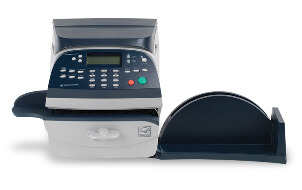 A range of impressive franking machine features are available with the Pitney Bowes DM110i digital franking machine and they can help benefit any user. The image above shows that it uses one touch buttons and this makes franking easier and simpler to complete. There is even a clear screen available when selecting various job settings.
For quicker job setup up to 5 job memories can be stored on the DM110i. This means that any commonly used mailing jobs can be stored for quicker access and job setup. Whether this is just a second class impression or a impression of a logo, up to 5 jobs can be stored and accessed.
To help monitor and track all postage expenditure better the Pitney Bowes DM110i digital franking machine comes with 10 departmental accounts. These can be PIN code protected and will help any business get their postage costs under control.
A top franking speed of 25 letters per minute can be reached and this makes the DM110i franking machine suitable for franking up to 100 items per day. Frank onto any mail item up to 9.5mm thick and frank onto franking labels for thicker parcels and packets. This way businesses can benefit from all the lower franking rates.
Receive some low cost Pitney Bowes DM110i franking machine supplies here.
Pitney Bowes DM110i Specifications
Take a quick look at the Pitney Bowes DM110i digital franking machine specifications, as released by Pitney Bowes.
Franking Speed:

25 letters per minute

Feeder:

Pass Through

Maximum Envelope Thickness:

9.5mm

Connectivity:

Wi-Fi or LAN

Weighing Platforms:

2.5, 7, 12 or 35 Kg

Advertisements:

10

Departmental Accounts:

10

Job Memories:

5

PIN Security:

Yes

Smart Meter Technology:

Yes

Mailmark Technology:

Yes

Length of machine:

345mm

Depth of machine:

400mm

Height of machine:

230mm
There are many digital franking machines available on the franking machine market, with the Pitney Bowes DM110i being one of them. Here at Mailcoms we can supply our very own range of digital franking machines. Click here to see if we can supply you with a suitable franking machine and receive a low cost quote for a model similar to the Pitney Bowes DM110i.