About the Neopost IS6000c Postage Meter
The Neopost IS6000c postage meter is Neopost's heavy duty meter. It is ideal for sending much larger volumes of mail per day, over 1000 based on our experience. As a heavy duty model the IS6000c possesses a large array of impressive features that will benefit any busy mail room. However similar to all postage meters, the machine will still provide you with the lowest franking prices.
About the Neopost IS6000c Postage Meter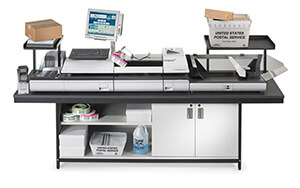 A large amount of envelopes can be franked every minute with the Neopost IS6000c postage meter. Reach incredible speeds of 260 or 140 letters per minute and ensure every mail item is franked correctly and accurately. With a dynamic scale available at your dispense, you can be sure to never miss pay for mail items again.
Setting up a mailing job can be completed very easily and quickly with the heavy duty IS6000c as various job memories, a colour display screen and a keyboard are all available features. Mail processing will be easy to complete by all, being very beneficial for any corporation.
The latest franking technologies will even give businesses access to more features. Smart Meter technology allows the user to use all VAT services and Mailmark allows the user to use lower franking prices. These technologies bring many other benefits other than this. Ensure you get the most out of the Neopost IS6000c postage meter.
Click here to get some Neopost IS6000c franking machine supplies.
IS6000c Further Details
View further franking machine details about the IS6000c postage meter below.
Franking Speed:

140 or 260 LPM

Feeder:

Automatic feeding

Maximum Envelope Thickness:

20mm

Connectivity:

Wi-Fi or LAN

Weighing Platform:

3, 5, 10 or 30 Kg option

Advertisements:

8

Departmental Accounts:

500

Job Memories:

15

PIN Security

Smart Meter Technology

Mailmark Technology

Differential Weighing

Dynamic Scale

Barcode Scanner

Length:

1,500mm

Depth:

640mm

Height:

360mm
The Neopost IS6000c postage meter is just one high volume franking machine currently available. Here at Mailcoms we can supply you with our own unique range of postage meters. View our range of franking machines here and receive a low cost quote for a postage meter similar to the IS6000c.