About the IS280c Postage Meter
The IS280c postage meter is a entry level franking machine that is manufactured and supplied by Neopost Ltd. Neopost are one of Europe's largest manufacturers of postage meters and their IS280c machine is currently suited for smaller sized businesses. The IS280c comes with many features and benefits. Find out more below.
Neopost IS280c Postage Meter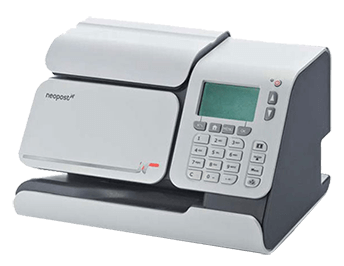 The main benefit and feature of using a postage meter such as the Neopost IS280c is using the latest technologies. Both smart meter and Mailmark are incorporated into most modern franking machine, including the IS280c postage meter. These can prove to be very beneficial for any business as more money can be saved and a range of extra services can be used when franking.
Accurately calculate the correct postage and eliminate the risk of miss paying for a mail item with the IS280c postage meter. You can frank a company logo and / or return address on all mailings, avoiding wasted mailings as Royal Mail will return undelivered mail. Postage can even be topped up 24 hours a day, ensuring you always have money on the machine.
There are many features available with the IS280c postage meter. A manual feeder can process smaller mail volumes per day, any mail item up to 8mm thick can be franked with ease and as many as 10 adverts can be stored on the machines memory.
Click here to view our range of IS280c franking machine supplies.
IS280c Specifications
Take a gander at the various IS280c specifications below.
Franking Speed:

20 per minute

Feeding System:

Manual

Maximum Envelope Thickness:

8mm

Weighing Scale:

Yes, 2 Kg

Advertisements:

Yes, up to 10

Departmental Accounts:

Yes, up to 10

Job Memories:

Yes, up to 9

Smart Meter Technology

Length:

316mm

Depth:

225mm

Height:

194mm
IS280c Options
Take a gander at the various IS280c options below.
Weighing Scale:

3 Kg scale also available

Connection:

Wi-Fi or LAN

PIN Security

Mailmark Technology
Interested in the Neopost IS280c franking machine? View our range of franking machines here and receive a low cost quote for a very similar postage meter.