About the Frama Matrix F62 Postage Meter
The Frama Matrix F62 postage meter is currently a mid volume postage meter manufactured and supplied by Frama. The Matrix F62 possesses more features and abilities than other Frama models and as such it can benefit any business. It is ideal for businesses that frank up to 500 pieces of mail per day, based on our experience.
About the Frama Matrix F62 Postage Meter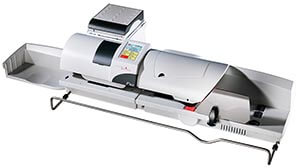 Like any postage meter a feeding system is used, and the Frama Matrix F62 postage meter comes with an automatic feeder. This can process up to 95 letters per minute onto any mail item up to 10mm thick. A label dispenser is available, meaning users can access and use all postage rates.
Mailmark franking was released during 2014 and the Matrix F62 meter was one of the earlier models to possess this technology. Lower tariffs are available, a new 2D barcode is used during the franking process and an Ethernet cable can be used permanently. Along with smart meter franking, a range of benefits can be gained.
Up to 36 OneTouch buttons are available with the Frama Matrix F62 postage meter and this enables franking to occur much quickly. A large colour display screen is integrated into the machine meaning franking can be reached by all members of staff.
Click here to get some Frama Matrix F62 franking machine supplies.
Matrix F62 Further Details
View further franking machine details about the Matrix F62 postage meter below.
Franking Speed:

95 LPM

Feeder:

Automatic feeding

Maximum Envelope Thickness:

10mm

Connectivity:

Wi-Fi or LAN

Weighing Platform:

2, 5 or 30 Kg option

Advertisements:

14

Departmental Accounts:

100 or 250

One Touch Functions:

36

Job Memories

PIN Security

Smart Meter Technology

Mailmark Technology

Length:

1085mm

Depth:

621mm

Height:

219mm
The Frama Matrix F62 postage meter is just one mid volume franking machine currently available. Here at Mailcoms we can supply you with our own unique range of postage meters. View our range of franking machines here and receive a low cost quote for a postage meter similar to the Matrix F62.