About the DM110i Postage Meter
The DM110i postage meter is a low volume franking machine that is manufactured and supplied by Pitney Bowes. Pitney Bowes are the world's leading suppliers and manufacturers of postage meters and their DM110i meter is currently suited for slightly smaller businesses. The DM110i comes with many features and benefits. Find out more below.
Pitney Bowes DM110i Postage Meter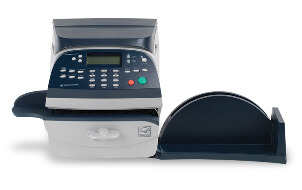 The main benefit and feature of a postage meter such as the DM110i is using the latest franking machine technologies. Both smart meter and Mailmark can be used when franking with the DM110i postage meter. These can prove to be very beneficial for any business as more money can be saved and more services can be used during the franking process with the DM110i.
As many as 5 job presets are readily available with the Pitney Bowes DM110i postage meter and this allows common jobs to be accessed quickly. Tracking and reporting can occur on up to 10 departmental accounts, meaning processing and keeping on top of your mail is made even easier with the DM110i.
There are many features available with the DM110i postage meter. A pass through feeding system can process smaller mail volumes, as many as 10 adverts / slogans / logos can be stored on the machine to improve the look of your mail and users can benefit from using a weighing scale prior to franking.
Click here to view our range of DM110i franking machine supplies.
DM110i Specifications
Take a gander at the various DM110i specifications below.
Franking Speed:

25 per minute

Feeding System:

Pass Through

Maximum Envelope Thickness:

9.5mm

Weighing Scale:

Yes, 2.5 Kg

Advertisements:

Yes, up to 10

Departmental Accounts:

Yes, up to 10

Job Memories:

Yes, up to 5

Smart Meter Technology

Length:

345mm

Depth:

400mm

Height:

230mm
DM110i Options
Take a gander at the various DM110i options below.
Weighing Scale:

7, 12 or 35 Kg scales also available

Connection:

Wi-Fi or LAN

PIN Security

Mailmark Technology
Interested in the DM110i franking machine? View our range of franking machines here and receive a low cost quote for a very similar postage meter.