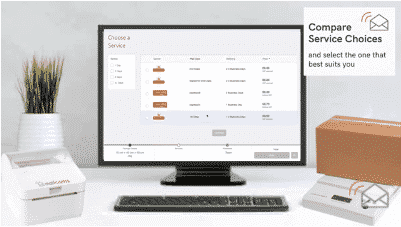 Welcome to the Parcelsend Kit Upgrade
Advancements in technology and supporting the need for 'contactless' deliveries more than ever, we're excited to announce that Mailcoms and Royal Mail can now improve the way your franking machine sends parcels and packets through your franking machine account.
With the Mailsend Kit upgrade to your existing machine you can now process and send 1st and 2nd Class Small & Medium Parcels through your franking machine account and get FREE delivery confirmation saving £££'s on paying for the 'Signed For' service. You can even choose for the system to automatically send your recipient both, the tracking number and delivery information which can avoid uncomfortable, time-consuming and costly delivery disputes.
Also, for a small fee you can also add Parcelforce in to your account allowing you to choose from all their domestic and worldwide services at pre-negotiated rates or up to 75% off retail rates*. This also includes easy completion and printing off the complex customs forms when sending via Parcelforce Worldwide. All items send via Parcelforce will be simply charged to your franking account.
Quick Video Demonstration
* Postage, supplies and carrier charges apply. In order to be able to use the Parcelsend Kit Upgrade you must have a valid Royal Mail franking machine licence. Savings versus Royal Mail Stamps. Savings do not include equipment running costs or consumables. No minimum volumes needed.
* NOTE: Prices correct as of July 2020 – Save up to 75% versus Royal Mail® and Parcelforce® Worldwide non-contract prices via www.parcelforce.com. No minimum volumes needed (prices correct as at 25th March 2020).