Pitney Bowes DM110i Franking Machine Review – By Mailcoms
The small yet powerful DM110i franking machine is the perfect solution for businesses sending out up to 75 letters per day. As long as you send 20 items per day you can still benefit from using this machine. Coming with a pass through feeding feature and a top franking speed of 20 letters per minute, this Pitney Bowes model is perfect for getting low volumes of mail out the door on time.
Pitney Bowes DM110i Franking Machine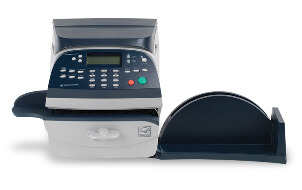 The Pitney Bowes DM110i franking machine is one of the few models that are Mailmark ready. This means that after an update from Pitney Bowes, the DM110i will be able to use the brand new service which is Mailmark. This means that you can use the new 2D barcode which gives you the extra Mailmark benefits such as lower franking prices.
The DM110i franking machine is ideal for letters and small packages that are up to 9.5mm thick. This means that any letter up to 9.5mm can be franked with ease. Your larger mail items can be franked by using franking labels. The integrated 2.5 Kg scale will also accurately weigh your mail, helping to eliminate the chance of over or under paying for your mail items.
Other franking machine features that come with the DM110i model include the latest smart meter technology, up to 5 job memories for your most common jobs, various amounts of departmental accounts and much more. All of these features will aid the franking process for your business.
View our range of Pitney Bowes Franking Machine Supplies here.
DM110i Specifications
View the specifications of the Pitney Bowes DM110i franking machine.
Speed:

25 LPM

Daily Volume:

Between 20 & 75 Items (Recommended)

Feeding System:

Pass Through Feeding

Weigh Platform:

2.5, 7, 12 or 35 Kg scales

Max. Envelope thickness:

9.5mm

Job Memories:

5

Connectivity:

LAN Connection

Departmental Accounts:

10 as standard, 100 optional

Differential Weighing:

No

PIN Protection:

Yes

Adverts:

Yes

Smart Meter Enabled:

Yes

Mailmark Compatible:

Yes
DM110i Dimensions
View the dimensions of the Pitney Bowes DM110i franking machine.
Length of machine:

345mm

Height of machine:

400mm

Depth of machine:

230mm

Weight of machine:

6.8kg

Electrical:

100 – 240 VAC, 50/60Hz, 3A
Would like a brand new franking machine similar to the DM110i? If so then you can view our range of franking machines here.