Frama Matrix F42 Franking Machine Review – By Mailcoms
The Matrix F42 franking machine is a brand new franking machine manufactured and supplied by Frama. It was recently released during 2014 to comply with the brand new Mailmark technology released by Royal Mail. This machine, along with several others in Frama's F Matrix range, was released for Mailmark so customers could benefit from this new technology.
If you would like a similar Mailmark machine to this one, get a Mailmark quote here.
Frama Matrix F42 Franking Machine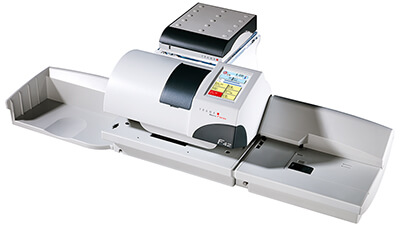 The Frama Matrix F42 franking machine comes with a top franking speed of 65 letters per minute. This speed, based on our experience, is suitable for businesses sending out as many as 300 mail items per day. By using a semi-automatic feeder you can ensure all of your daily mail is processed and sent out with ease.
By using a automatic label dispenser you can frank onto mail items up to 10mm thick. For mail items that are thicker, such as parcels, you can individually frank them with a franking label. This allows you to benefit from using all of the Royal Mail prices. Also connect to a secure LAN and receive faster software updates and rate changes with the Matrix F42 franking machine.
The Matrix F42 model is incredibly easy to use as it comes with a full colour touch screen. By using up to 36 one touch buttons and an easy to use touch screen, the franking process could not be any easier. Other great franking machine features that come with this model machine include 600 dpi printing for clean franks, up to 250 departmental accounts and a integrated weighing platform, all aiding your business.
Matrix F42 Specifications
View the specifications of the Frama Matrix F42 Franking Machine below.
Speed:

65 LPM

Feeding System:

Semi-Automatic

Label Dispenser:

Automatic

Weighing Platforms:

2 or 5 Kg scales

Max. Envelope thickness:

10mm

One Touch Functions:

36

Connectivity:

LAN Connection

Print Quality:

600 dpi

Adverts:

8

Departmental Accounts:

50 as standard, 250 optional

PIN Protection:

Yes

Smart Meter Enabled:

Yes

Mailmark Compatible:

Yes
Matrix F42 Dimensions
View the dimensions of the Frama Matrix F42 Franking Machine below.
Length of machine:

830mm

Height of machine:

220mm

Depth of machine:

380mm

Weight of machine:

8.9 Kg
If you would like a franking machine similar to the Frama Matrix F42 then you can view our range of franking machines here.