Frama Conveyor Stacker CF6 Franking Machine Review – By Mailcoms
When using the Frama Conveyor Stacker CF6 franking machine you simply stand still whilst the machine franks your mail quickly and efficiently. This machine is an extra to the Frama Matrix range of franking machines. Simply connect your current Matrix franking machine and frank away. This is ideal for businesses using the Matrix F62 or F82 franking machine. No additional installation or working space is needed when using the Conveyor Stacker CF6.
Frama Conveyor Stacker CF6 Franking Machine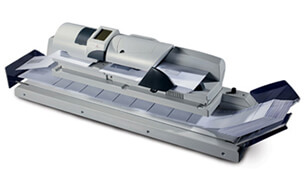 The Frama Conveyor Stacker CF6 franking machine will help speed up the franking process and is perfectly suited for larger sized mail loads. By using a fully automatic feeding system you will be able to watch this machine as it processes your mail. The speed of this machine is adjusted to suit your needs being very convenient and useful for any business.
Similar to the other Matrix franking machines the Conveyor Stacker CF6 can connect to a LAN connection as standard. This will give your business much quicker software updates and downloads for your franking machine. You will also still be able to use the latest Mailmark technology when franking your mail. This new technology will give your franking machine access to much lower franking prices, a new 2D barcode impression and an improved business image.
When you use the Conveyor Stacker CF6 franking machine you can benefit from franking mail items up to 10mm thick. This means that all mail up to 10mm will be franked with ease. Your larger mail items can be franked by using franking labels meaning your larger items can still benefit from lower franking prices.
Also benefit from using an integrated accounts feature that allows up to 100 accounts on your machine. PIN code protect these accounts and ensure you are always on top of your postage expenditure. Other great features that come with the Conveyor Stacker CF6 include an integrated weighing scale, smart meter technology and various advertisements.
Get a franking machine quote for a similar machine here.
Conveyor Stacker CF6 Specifications
View the specifications of the Frama Conveyor Stacker CF6 Franking Machine below.
Speed:

Adjustable speed to suit your needs

Feeding System:

Automatic Feeding

Weighing Platforms:

2, 5 Kg scales

Max. Envelope thickness:

10mm

Connectivity:

LAN Connection

Departmental Accounts:

100 as standard

PIN Protection:

Yes

Adverts:

Yes

Smart Meter Enabled:

Yes

Mailmark Compatible:

Yes
Conveyor Stacker CF6 Dimensions
View the dimensions of the Frama Conveyor Stacker CF6 Franking Machine below.
Length of machine:

1560mm

Height of machine:

368mm

Depth of machine:

337mm