FP Mailing Qi 2000 Franking Machine Review – By Mailcoms
The Qi 2000 franking machine is a highly productive franker recently released by FP Mailing. It is capable of reaching an incredible speed of 260 letters per minute when using batch processing. A slower but still productive speed can be reached when using the dynamic scale to frank your mail. A speed of 140 letters per minute is possible and both options will help any large business frank all of their mail per day.
FP Mailing Qi 2000 Franking Machine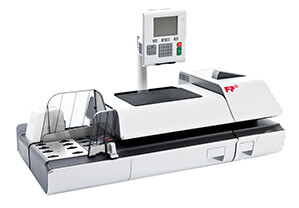 Based on our experience with a similar model to the Qi 2000 franking machine we would recommend that this model is perfectly suited for businesses franking over 1000 mail items per day. As well as a productive franking speed the FP Mailing Qi 2000 franking machine comes with many other features.
Re-crediting can be completed with incredible ease when using a secure LAN connection with this model. This means that no more costly dedicated analogue lines will be needed. Use a full colour touch screen during the franking process. This will help improve the franking process and means that no specialised training is required for this machine.
The FP Mailing Qi 2000 franking machine is one of only a few that is capable of franking onto mail items up to 20mm thick. This means that any mail up to this thickness can be franked. Mail items that are thicker can still be franked via a franking label. This allows you to benefit from all the lower franking prices.
The latest franking technologies also come as standard in this high volume franking machine. Both Mailmark and smart meter technologies can be used. Mailmark will enable you to frank a new 2D barcode and use much lower franking prices. Smart Meter technology gives businesses access to Royal Mail VAT products and allows you to regain any paid VAT back being very beneficial.
Other franking machine features that come with the FP Mailing Qi 2000 franking machine include up to 15 job memories for your most commonly used jobs, a integrated choice of weighing scales, a fully automatic label dispenser and much more.
Qi 2000 Specifications
View the specifications of the FP Mailing Qi 2000 Franking Machine below.
Speed:

260 LPM (Batch Processing)

Weighing Speed:

140 LPM (Dynamic Scale)

Feeding System:

Automatic Feeding

Label Dispenser:

Automatic

Weighing Platforms:

3, 5, 10, or 30 Kg scales

Max. Envelope Thickness:

20mm

Connectivity:

LAN

Adverts:

9

Job Memories:

15

Dynamic Scale:

Optional

Barcode Scanner:

Optional

USB Storage:

Optional

Control Panel Colour Touchscreen:

Yes

Departmental Accounts:

Yes

PIN Security:

Yes

Mail Class Printing:

Yes

Smart Meter Enabled:

Yes

Mailmark Compliant:

Yes
CLICK HERE to view our range of franking machines. See if we can safe you money for a franking machine similar to this model.