FP Mailing Postbase Mini Franking Machine Review – By Mailcoms
The Postbase Mini franking machine is a brand new entry level franking machine released by Francotyp Postalia / FP Mailing earlier this month. This new machine is a perfect machine for any small office and it will fit onto any office desk with ease. This model is perfect for newer frankers who do not send many mail items on a daily basis.
FP Mailing Postbase Mini Franking Machine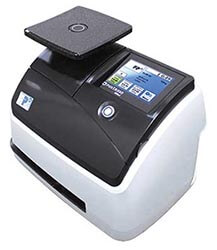 The FP Mailing Postbase Mini Franking Machine is an entry level machine, capable of franking as many as 15 items of mail per minute. As long as you send as many as 5 items of mail on a daily basis you will benefit from using this machine. Use a manual feeder to frank your mail accurately and preciously.
This machine is extremely easy to use, coming with a 3.5 inch colour touch screen for ease of use. Use various short cuts on this navigation screen if you wish and frank mail quickly and easily. Also use an integrated 2 Kg weighing scale to eliminate the possibility of you ever over or under paying for a mail item again. A franking machine like the Postbase Mini franking machine can be very beneficial for any small or home business.
The FP Mailing Postbase Mini franking machine also comes with the latest franking technologies. Both smart meter and Mailmark technology comes with this machine. You will already know the excellent benefits smart meter will bring, but you may not know about Mailmark. Mailmark is a brand new initiative which offers businesses lower franking prices and a brand new and very beneficail 2D franking impression.
Get a Mailmark Quote or a Franking Machine Quote here today for a similar machine.
Postbase Mini Specifications
View the specifications of the FP Mailing Postbase Mini Franking Machine below.
Speed:

15 Letter Per Minute

Feeding System:

Manual

Weigh Platform:

2 Kg Scale

Max. Envelope Thickness:

6mm

Print Technology:

Ink Jet

Print Quality:

300 dpi

Connectivity:

LAN

Short Cuts:

10

Adverts:

10

Departmental Accounts:

10

PIN Protection:

Yes

Colour Touch Screen:

Yes, 3.5″

PC Control Software:

Optional

Smart Meter Enabled:

Yes

Mailmark Compliant:

Yes
Postbase Mini Dimensions
View the dimensions of the FP Mailing Postbase Mini franking machine below.
Length of machine:

310mm

Height of machine:

230mm

Depth of machine:

205mm

Weight of machine:

3 Kg