Pitney Bowes DM575 Franking Machine – Guide By Mailcoms
Pitney Bowes DM575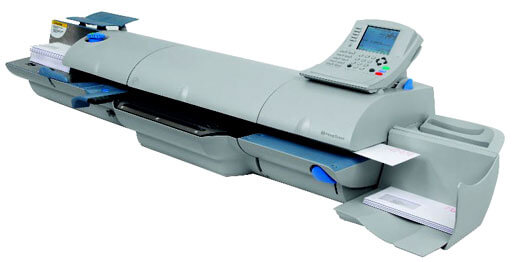 High Volume Franking Machine (Speed of up to 175 franks per minute)
The Pitney Bowes DM575 Series of franking machines is a slightly older model franking machine that can be supplied to you by Pitney Bowes. It was manufactured for higher levels of productivity, and for this reason the DM575 can frank up to 175 letters per minute, and based on our experience with a similar machine, it is suitable for any business franking up to, but not limited to 1000 items of mail a day.
Although the DM575 is an older model, it can still frank your mail cleanly as it comes with Smart Meter technology which allows you to use newer Smart Blue franking ink for your mail. As well as this, the Pitney Bowes DM575 comes with many departmental accounts and PIN security, meaning that you can monitor and keep your postage funds secure.
Not only does the Pitney Bowes DM575 have these features, but you can choose from a wide range of weighing scales for this machine and you can use the Weigh-on-the-Way & Dimensions-on-the-Way technologies that allows you to process mixed sized and weight mail with ease. These features are extremely useful to have as it will help eliminate the possibility over ever over or under paying for a mail item.
However, the Pitney Bowes DM575 franking machine is currently not set to become Mailmark compliant as it is a slightly older model, and so we advise not to buy this franking machine if you want to take advantage of the new Mailmark service. Get a low cost Mailmark Franking Machine Quote for a similar machine here.
Get low cost Pitney Bowes DM575 Franking Machine Supplies here.
Get a low cost Franking Machine Quote for a similar machine here.
Pitney Bowes DM575 Specifications
Non Weigh-on-the-Way Speed: 175 letters per minute
Weigh-on-the-Way Speed: 95 letters per minute
Scales: Choose from a 2, 7, 12 or 35 Kg scales
Departmental Accounts: 100 standard, 300 optional
Connection: LAN or Telephone Connection
Max. Envelope Size: 16mm
Advertisements: Yes
PIN Security: Yes
Auto-Dating: Yes
Smart Meter: Yes
Mailmark: No
Weigh-on-the-Way: Optional
Dimensions-on-the-Way: Optional
Barcode Scanner: Optional
Dimensions: Length: 915mm, Depth 432mm, Height 254mm
Drop Stacker adds 305mm (Standard)
W-o-W + D-o-W adds 508mm (Optional)
Dimensions: Weight: 27 Kg
W-o-W + D-o-W adds 15.9 Kg (Optional)
Electrical: 100-240 VAC, 50/60Hz
Pitney Bowes DM575 Running Costs
Ink: £152.50 for 15,000 prints
Franking Labels: 1000 for £16.95
Franking Label Rolls: £39.95
Envelopes: 250 for £29.95