Mailcoms MailFill Plus Folding Inserting Machine – Guide By Mailcoms
Mailcoms MailFill Plus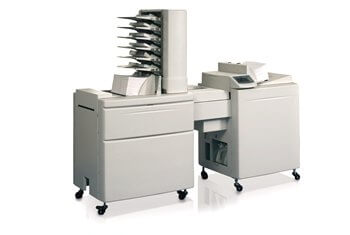 Mid to High Volume Folding Inserting Machine (Speed of up to 3,600 letters per hour)
The Mailcoms MailFill Plus folding inserting machine is one of Mailcoms top of the range folder inserters that is currently on offer. This is a mid to high volume folding inserting machine that is capable of reaching a top speed of 3,600 cycles per hour. The MailFill Plus is one of the most compact models for flat and direct mail. It also possesses some features that can only be found in larger systems that may cost you more money.
Not only this, but the Mailcoms MailFill Plus is ideal for any business wishing to benefit from the Royal Mail's Large Letter discount tariffs. As well as this, your business can benefit from the amount of time and money that can be saved when using a folding inserting machine of this capability. Use features such as job memories, one touch buttons and various feeders to save your business time and money when folding your mail with the MailFill Plus machine.
If you would like to find out even more about the Mailcoms MailFill Plus Folding Inserting Machine, please view our MailFill Plus Brochure or our MailFill Plus Web Page here.
Get low cost MailFill Plus Folding Inserting Machine Supplies here.
Receive a low cost MailFill Plus Folding Inserting Machine Quote here.
Mailcoms MailFill Plus Specifications
Speed: 3,600 cycles per hour
Fold Types: Single Fold, Letter C Fold, Accordion Z Fold, Double Fold, No Fold
Job Memories: 24
Media Size: Minimum: 210mm (W) x 93mm (H)
Media Size: Maximum: 300mm (W) x 300mm (H)
Media Thickness: 60gsm to 200gsm
Envelope Feeder Capacity: Envelopes Stacked 318mm high
Sheet Feeder Capacity: 380 Sheets
Number of Sheet Feeders: 8
Insert Feeder Capacity: Stacked 150mm high
Number of Insert Feeders: 7
Booklet Feeder: Optional
Integrity Mode Options: Optional
Output Options: Stacker Tray or Belt Stacker
Dimensions: Width: 810mm, Depth: 715mm, Height: 1550mm
Dimensions: 141 Kg (Depending on Options)
Electrical: 100-240 VAC, 50-60 Hz